On-site Furniture Restoration Specifications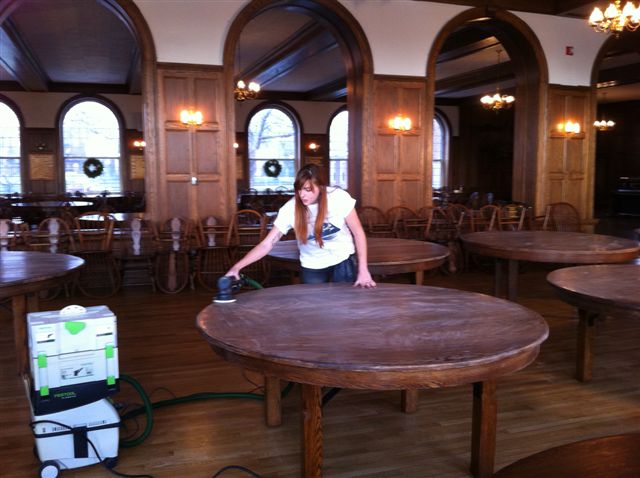 All furniture is inspected for structural damage and split or cracked panels. All structural components are repaired, reglued and reinforced with high torque furniture screws as needed. Split or cracked panels such as tops, sides, drawer fronts, etc. are reglued, clamped and reinforced with high torque furniture screws as needed. All screws are countersunk and covered with a solid wood plugs, then sanded for a uniform appearance.
Case inner-structure of desks, dressers, drawer boxes, etc. are checked and reinforced with glue and screws as required.
All surfaces are cleaned and degreased with steel wool and a specialized decreasing agent to protect furniture from any stain and finish chemical imbalance.
The furniture is sanded to remove imperfections such as pen marks, scratches, cigarette burns, chips, dents, etc. Any deep gouges are filled with matching filler, as required. All sanding dust is completely removed by our vacuum systems as the furniture is sanded. We guarantee the rooms will be as clean, if not cleaner, when we complete our process for each project.
Matching color stain is hand-applied to entire piece of furniture to create a uniform color match. One coat of water-born sealer is applied to the entire piece. The piece is then hand-sanded with 220 grit sand paper and wiped down with tack cloth to remove any fine dust. Two coats of our specialized water-born polyurethane is then hand-applied. Our specialized water-born polyurethane is chemically compatible with any other pre-existing finish and provides a durable and uniform finish.
Entire room is cleaned and vacuumed prior to exiting.
Restoration done on-site by the professionals at Northern Lights offers our unbeatable craftsmanship, with the added benefits to clients of being more convenient, more economical, and having furniture back in service faster.
NOTE: Water-born polyurethane is environmentally friendly and dries to the touch in 10 minutes with full cures time being  two hours.