About Northern Light Restoration
Going Green Since 1992
With the many environmental and economic concerns of the world today, most everyone is trying to extend the use of their furniture and save money where they can. Since 1992, Northern Lights Restoration, Inc. has been providing commercial furniture refinishing and historic preservation services that readily meet these needs.
Northern Lights Restoration is dedicated to providing high quality craftsmanship in an efficient manner while building lasting relationships with our customers. It's with this philosophy that we offer a full spectrum of refurbishing services tailored to fit specific needs of each individual customer.
 A Pioneering Process
With the heavy use (and sometimes abuse) of furniture in any commercial setting, eventually it will become worn and in need of repair. In the past, when furniture damage occurred, the only options were to:
 Discard the furniture (generally into landfills) and purchase replacements or;
Ship the damaged pieces to a refurbishment center to be stripped and refinished.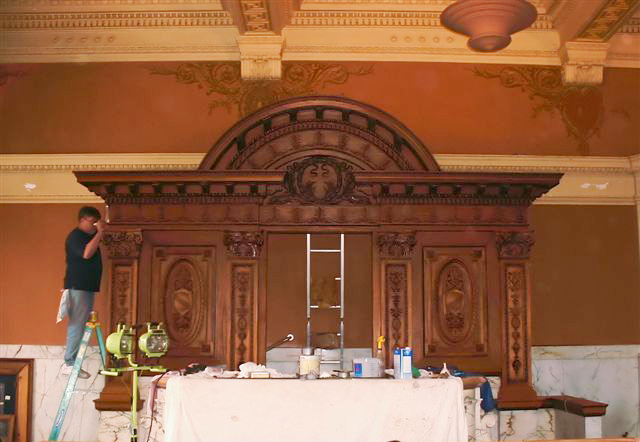 Now There Is A Better Choice
Northern Lights has pioneered an economical and environmentally responsible way to get the most from your furniture: On-Site Restoration. We'll actually bring the refurbishing directly to you. Northern Lights will come to your site and evaluate all of the furniture in question, documenting which pieces need restoration, and supplying you with a full status report of all of the furniture at that location. Using these results, we will then provide you with a written quotation for the restoration services that the job will require.
After you've approved the quotation and an agreeable time frame has been scheduled, we'll then send a crew of qualified personnel to your site with all of the equipment necessary to begin the refurbishing phase.
Beyond being convenient, Northern Lights on-site restoration also provides many advantages:
 It eliminates the cost of having to remove damaged furniture and shipping it off-site for complete stripping and refinishing.
It greatly reduces the down-time of any building involved.
It offers a substantial savings, approximately 30% of the cost of furniture replacement.
It increases the life of your furniture while decreasing the amount of waste put into landfills.
It can help you establish a long-term maintenance program to keep each piece of furniture at your facility accounted for, and up to standards.
Northern Lights uses only environmentally safe finishes that are odorless, non-flammable and hand-applied.
When damage to furniture occurs, on-site structural reinforcement, repair, and refinishing is the best alternative. When done professionally, this process is definitely the smart way to go- saving you both time and money, far into the future.
A well-organized, on-site restoration by Northern Lights is fast becoming the preferred method of many hotels, colleges, universities and other institutions.
---
About Robert Stephens
Robert A. Stephens, President and Founder of Northern Lights Restoration, Inc., has been in the commercial furniture industry since 1982. While working for a national contract furniture manufacturer, first in manufacturing and then in sales and marketing, he found that most colleges and universities would replace their residence hall furniture every 10 to 15 years.
In most applications, the furniture was well constructed, using solid oak or maple. Robert realized that, by repairing and refinishing the furniture after a 8 to 12 year period, he could gain an additional 10-15 year life span on this furniture for his customers. By designing a specialized on-site refinishing program, he could offer his customers a 70% to 85% savings over buying new furniture.
Thus, the cycle started in June of 1992.
Northern Lights Restoration's Mission Statement
Our mission is to bring the highest quality services to our customers and help restore, refinish, and preserve the what matters most to them. Whether it be a courtroom, residence hall, historic hotel, or any other project of significance, we promise to delivery our best results in a timely, affordable, earth-friendly manner.
Customers…
Are the most important people in any business.
Are not dependent on us, we are dependent on them.
Are not an interruption of our work, they are the purpose of it.
Do us a favor when they call, we are not doing them a favor by serving them.
Are part of our business, not outsiders.
Are people who bring us their wants. It is our job to fill those wants.
Are deserving of the most courteous and attentive treatment we can give them.
Are the lifeblood of this and every other business.
Are the people that make it possible to pay our salaries.