Hawthorne Hotel
Salem, MA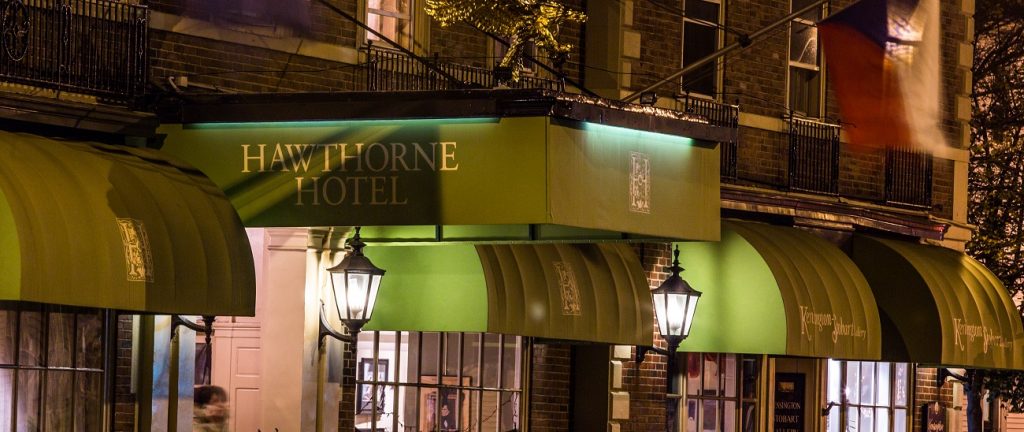 ---
Testimonial
May 2017 Testimonial:
"Managing a historic property unquestionably comes with its own challenges, and maintaining its celebrated grandeur and physical appearances, especially when restoration of woodwork is involved, are among the many concerns for a hotelier. The Hawthorne Hotel was no exception to that.
I knew we had chosen the right company during my interactions with Bob Stephens when Northern Lights Restoration took on some of the more challenging assignments at the hotel. Bob's expertise, quality of work, flexibility and overall collaborative mindset made it a true pleasure to work with. Two specific projects came to mind that showcased the detail and quality that Northern Lights Restoration brought to the table.
The first example was in our wood-paneled Tavern. As part of a prior project, Bob and his team had already completed an outstanding job on restoring the bar area, which made us confident he was the right person to continue with. This time we needed the walls and ceiling beams to be restained, as well as restoring numerous wooden mold pieces that had gone missing over the past years. As an added curveball, the owner wanted this week-long task completed without closing the restaurant. Without hesitation, Bob revised his work schedule and proposed to work overnight, allowing us to open during the day without any loss of revenue.
A second example of Northern Lights Restoration's quality is the work they completed on top of the hotel for the Salem Marine Society. Established in 1766, as the third oldest marine society in the world, the society has its own private meeting space on top of the Hawthorne Hotel since the hotel opened in 1925. Built in the form of a ship's cabin, the area is detailed with intricate woodwork designs that were in desperate need of some upkeep after years of usage by the society members. Having witnessed the excellent quality of work Bob accomplished at the hotel, I successfully, and with confidence, introduced Bob's company to the society to undertake this daunting task, culminating in a fabulous end result.
Having successfully worked with Bob on various projects, I can highly recommend his team to any historic property. For anyone looking for references, I can be emailed at [email protected] to go over the outstanding work they perform."
Best regards,
Patrick Cornelissen
General Manager
Previous Testimonial:
"We recently had all of the case goods here at the Hawthorne Hotel refinished by Bob Stephens and his team at Northern Lights Restoration. Our association with Historic Hotels of America was key in making this connection.
They did an outstanding job and we are so happy to have found this excellent company. They refinished nearly 700 pieces of furniture, as well as handled refinishing our bar in Nathaniel's Restaurant, and the beautiful cherry front desk in our lobby.
We are very pleased with the results of this work. They were swift, quiet, non-obtrusive and easy to work with – a very professional organization. They even handled the add-on pieces of work we gave them at the last minute without hesitation or complaint.
I have worked with other on-site refinishing companies in the past, and I have to say that Northern Lights was far and away a better choice."
Sincerely,
Juli LederHaus
General Manager
Hawthorne Hotel