Live Edge Tables
Highlighting the natural beauty of live edge furniture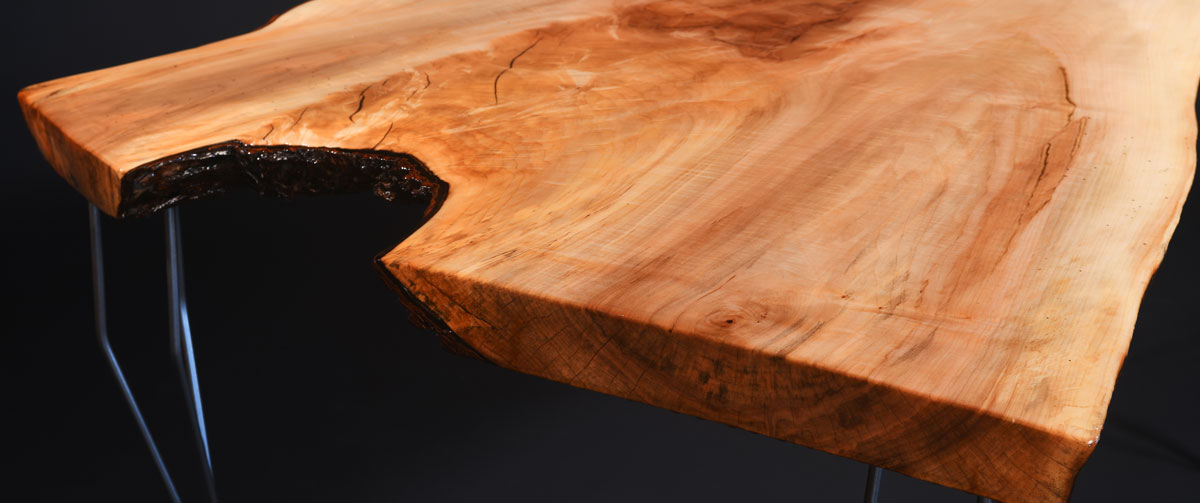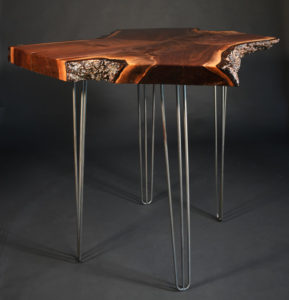 With over 35 years of experience in woodworking, furniture restoration and historic preservation, I have always had a great appreciation for nature and our forests. I have been collecting hardwood lumber for several years and am now able to turn these amazing slabs of hardwood into beautiful tables of all sorts of shapes and sizes.
Available species are Black Walnut, Cherry, Oak, Butternut, Quarter Sawn Oak, Maple and California Redwood Burl.
The majority of my live-edge tables are created from old-growth timbers, some of which are up to 300 years old and up to 58" wide. The natural and amazing grain patterns of these tables can tell a story in it's self. For each year of life, a tree will grow another ring in diameter. Wider for healthier years and narrower for lean years. By counting the growth rings, you can tell the age of a tree.
My approach to respecting the beauty of Mother Nature and the tree's she has provided for us, is to take an artistic means of expression and enhance the beauty of these tables. Each one is unique in size, shape, appearance and color.
---
Customization Options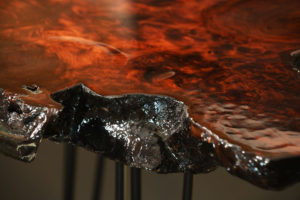 FINISHES
Once the tables are cut to size, sanded to a very smooth surface, a variety of finishes can be applied.
An epoxy finish is very durable, thick and of a higher sheen level. By using an epoxy finish, I am able to keep the bark of the tree in place and secure. My belief is that the bark is part of the tree and when possible, it is better to keep in place.
Other finish options are oils, urethane and wax finishes in satin or semi- gloss sheen.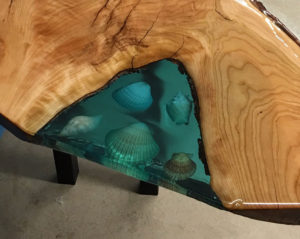 EMBELLISHMENTS
Several unique things can be done with my epoxy finishes from filling in natural voids or holes with solid or translucent colors, glow in the dark colors can be added as well. I can incorporate River Rocks, Mica Chips, Natural Calcite, Glass Beads, Sea Glass, Sea Shells, Polished Stones, Peacock Feathers, Green Moss, Leaves and so much more.
The options are endless.
LIGHTS
A unique option is to add LED lights to the underside of the table to illuminate the epoxy fill in the voids of the tables. These lights run off of batteries that can be changed as needed.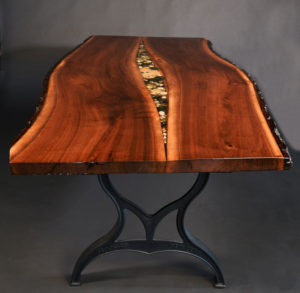 BASES
Table bases available are also in a wide variety. Most of my tables have attractive black metal hairpin legs, are very durable and do not take away from the beauty of the tops. Other options are natural root bases, custom hand-forged cast iron bases, and custom wooden bases using hand-hewn timbers from an 1850 barn.
---
Table styles and other options available are:
Dining Tables
Conference Tables
Console Tables
Bar Top Tables

Executive Desks
Smaller Desks
Coffee Tables
End Tables

Wall Coat Racks
Custom Shelves
Bath Boards & More